home
/
System of Intallation
Veneto Parquet's System of Installation
On this page we give you information and some ideas for the design of your environment:

LAYING SYSTEM:


FLOAT LAYING
The float laying system consists in placing wood tabless above a sheath, gluing only the joints. It necessary the sheat could be composed of material acoustic and waterproof materials. To increase its effectiveness it have also to be placed in the edges of floor.
This kind of laying system allow a better settlement of the floor without cracks by the layer.

GLUE LAYING
This laying system consist in gluing wood plank in a linear, dry (the humidity must not exceed 2.5%), clean and stable floor. The used glue is bicomponent: is composed by two resins, which allow mixed to stick permanently to the floor within 24 hours. In this way the floor is ready to use by the following day.
BIOBUILDING
For a house that respects the rules of biobuilding we recommend to settle a solid wood (oak for example), with a foundation composed of sand and joists in solid wood. The treatment we can use are natural oil or water varnish.These oils of excellent quality, have an optimal capacity of penetrate in depth, they are water-repellent and resistant to usury, even if they contain only natural oils such as oil of poppy, carnauba, turnip, thistle, soy, sunflower, wood, bee wax and siccatives made without lead and barium.


PLAN OF LAYING:


SCREED
Screed constitutes the layer of the support that have to resist to the several mechanical sollicitations, both from the flooring and from the exercise of then. It can be constituted from different materials with different features an performance and it can be different in according to the methodology of lay woodfloor. Usally wood floor is set directly on the screed that have to be homogenous and uniform in all its area because every curt variation could be cause of injuries and crackings. Besides it have not to contain hydraulic or electric installations, they have be placed in the layer of compensation positioned above attic or supporting layer under to the screed, they have to be insulated to avoid transmissions of heat that could cause crackings of the dampness or condensing and a possible expansion or curving of the parquet. To avoid tightly approached bundles of tubes is recommended so that to prevent yielding of screed. In high plans, it has always to be place on a barrier to the vapor that has the aim to limit the passage of the water vapor (ex: polietilene in superior sheets of thickness to 0.15 mm). To the ground floor the screed have to be set above of a vapor barrier so as to isolate itself from the passage of water vapor (ex: pitch polimero membrane, sheets of pvc or synthetic membrane in sheets of sufficient thickness). Screen and vapour barrier have to go back long walls to a sufficient height so as to protect the thickness of woodfloor. Surplus will be trimmed during the laying of skirting-board.

ALTERNATIVE PLAN OF LAYING
An alternative to the screed, due to weight, dampness, gap of level, eccetera could be the construction of a plan using jacks in propylene and insulation panels. The result is a precise, light and heat insulator subfloor. Otherwise other kinds of panels are available for using. For technical features see enclosures.


JACKS
Jacks are in polipropilene with adjustable height for the construction of internal floor or external raised floors of terraces,swimming pool floors or other types of areas. Their constructive solidity makes them adapts to installation of tiles, granite, marble, natural stones, concrete plates, plates and planks in wood or WPC (composite wood). Advantages in to use these products are manifold:
They can be used on old floors, cement screeds or directly on any type of waterproofing or thermal insulating without damaging them, in differnt level or slope and they are completely adjustable in height with the millimeter precision. In fact they allowed a gap from 3,5cm the 62 cm.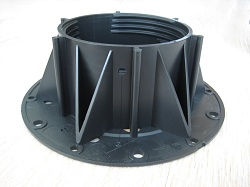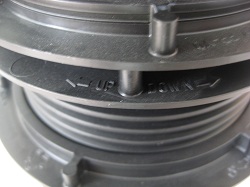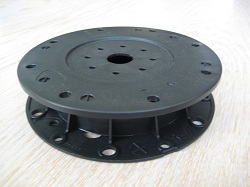 PANELS
Insulating panels composed by recycled wooden chipboard suittable for the creations of thermic and acoustic isolated foundations. They may have also fireproof, thermal insulation (double layer of 1,2mm in chipboard with an inner slab of sinterd plystyrene with graphite), or dry ( not waterproof ).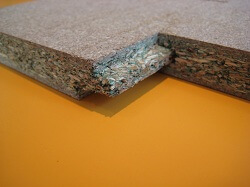 Some technical notes:
Panel waterproof fireproof
THICKNESS

mm

18

18

DIMENSIONS

mm

930x600

930x600

WEIGHT SPECIFIC

Kg/m3

680

700

DIMENSIONAL CHANGE

LONG SIDE

SHORT SIDE

%

930mm+0,15

600mm+0,17

930mm+0,26

600mm+0,30

FORMALDEHYDE EMISSION

Classe

E1

E1

CONDUTTANZA TERMICA

W/m2.K

6,3

6,3

CONDUCTIVITY

W/m2.K

0,116

0,116

THICKNESS SWELLING

%

2,33

3,5

TRACTION RESISTANCE

N/mm2

0,5

0,5

BENDING RESISTANCE

N/mm2

14+4

14+4

FORM OF ELASTICITY

N/mm2

2500

2500

REACTION TO FIRE

Classe

-

Bfi S1
Ecological panel
THICKNESS

mm

18

DIMENSION

mm

1050x520

WEIGHT SPECIFIC

Kg/m3

680

DIMENSIONAL CHANGE

LONG SIDE

SHORT SIDE

%

1050mm+0,26

520mm+0,30

FORMALDEHYDE EMISSION

mg/100gr (EN120)

mg/litro (JIS)

media 1,50

massima 2,00

THERMAL CONDUCTANCE

W/m2.K

6,3

CONDUCTIVITY

W/m2.K

0,116

THICKNESS SWELLING

%

4,08

TRACTION RESISTANCE

N/mm2

0,45

BENDING RESISTANCE

N/mm2

14+3

FORM OF ELASTICITY

N/mm2

2500
Thermal panel
THICKNESS

mm

54

64

DIMENSIONS

mm

960x460

960x460

WEIGHT SPECIFIC

Kg/m3

316

271

DIMENSIONAL CHANGE

LONG SIDE

SHORT SIDE

%

+0,15

+0,13

+0,15

+0,13

FORMALDEHYDE EMISSION

Classe

E1

E1

CONDUCTIVITY

W/m2.K

0,051

0,047

THICKNESS SWELLING

%

1,24

1,24

TRACTION RESISTANCE

N/mm2

0,45

0,45

BENDING RESISTANCE

N/mm2

14+4

14+4
THICKNESS

mm

74

84

DIMENSIONS

mm

960x460

960x460

WEIGHT SPECIFIC

Kg/m3

237

212

DIMENSIONAL CHANGE

LONG SIDE

SHORT SIDE

%

+0,15

+0,13

+0,15

+0,13

FORMALDEHYDE EMISSION

Classe

E1

E1

CONDUCTIVITY

W/m2.K

0,045

0,043

THICKNESS SWELLING

%

1,24

1,24

TRACTION RESISTANCE

N/mm2

0,45

0,45

BENDING RESISTANCE

N/mm2

14+4

14+4

Dry panel
THICKNESS

mm

18

DIMENSIONS

mm

930x600

WEIGHT SPECIFIC

Kg/m3

680

DIMENSIONAL CHANGE

LONG SIDE

SHORT SIDE

%

0,28

0,28

FORMALDEHYDE EMISSION

Classe

E1

THERMAL CONDUCTANCE

W/m2.K

6,3

CONDUCTIVITY

W/m2.K

0,116

THICKNESS SWELLING

%

3,67

TRACTION RESISTANCE

N/mm2

0,35

BENDING RESISTANCE

N/mm2

12+3

FORM OF ELASTICITY

N/mm2

2500

REACTION TO FIRE

Classe

4